A Lot is Riding On Your Subfloor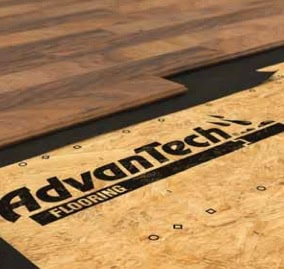 Build with AdvanTech® flooring for award-winning performance you can rely on. Specifically engineered to combine industry-leading strength, superior moisture resistance and installation ease, AdvanTech flooring is the FLAT OUT BEST™ for a quiet, stiff floor.
Total performance in one panel:
High density engineered wood for industry leading strength and stiffness
Advanced moisture resistant resin technology applied through the panel
Superb fastener-holding power helps keep floors flat and quiet
Patented fastening guide for easier installation
Precisely milled and extremely durable tongue and groove profile for easy installation
Ranked #1 in quality every year for more than a decade
Backed by the reputation of Huber Engineered Woods
With an industry-leading warranty and unmatched 500-day no-sanding guarantee, AdvanTech® flooring is the flooring panel that more builders trust. It's engineered for superior strength, moisture resistance and quality so you can build the quiet, stiff floor your homeowners demand. Build with the award-winning industry-leader and rest assured you'll get the most from your floors and everything you build on top of them.
Best-In-Class Warranty

Backed by a lifetime limited warranty that is transferable between future homeowners, AdvanTech flooring delivers performance you can trust.
No Sanding Guarantee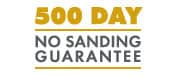 AdvanTech panels will stand up to your most demanding jobsites and are backed by a 500-day no-sanding guarantee. Say goodbye to swelling, cupping and delamination.
Voted #1 in Quality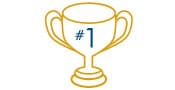 Builders from across the nation have voted AdvanTech flooring #1 in quality every year for over a decade. That's a reputation you can build on.
Precision Engineered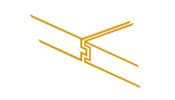 Every step of the manufacturing process is precisely engineered to produce a panel with superior performance and unmatched consistency. Its design values are recognized by the ICC-ES and published in ESR-1785. View them at www.icc-es.org.
What does ESR-1785 mean to you?
Overall,62% better design bending strength
28% better design bending stiffness than commodity OSB
16% better design bending stiffness than commodity plywood
Overall,10% better design fastener holding power
ENGINEERED TO BRING PERFORMANCE, QUALITY AND CONFIDENCE INTO EVERY FLOOR
PERFORMANCE WHERE YOU NEED IT

Carpet
Fully sanded surface and high wood density help eliminate see-through subfloor seams and keep tack-strips firmly in place.

Hardwoods
Fastener holding power and panel strength provide an exceptionally solid base for keeping hardwood flooring flat and quiet.

Tile & Stone
Industry-leading design stiffness and long-lasting durability help reduce the risk of cracked tile and stone.
WHERE TO BUY?
Stoneburner is and authorized Advantech dealer and offers their full line of sub flooring and application related products.
AdvanTech® Flooring panels are specifically engineered to outperform commodity OSB and plywood panels.
Industry Leading Strength and Stiffness
High wood density, paired with advanced engineering, provide the bending strength, stiffness and nail holding power needed to deliver a quiet, stiff floor.
Superior Moisture Resistance
AdvanTech flooring's best-in-class water resistance protects against swelling,cupping and delamination. This helps improve cycle time by reducing costly rework, construction delays and homeowner callbacks.
Fastener Holding Power
The high wood density and advanced resins inside AdvanTech flooring securely hold floor fasteners in place, helping to reduce nail pops and floor squeaks.
Installation Speed and Ease
Consistent manufacturing, plus built-in fastening guides and a precisely engineered tongue and groove profile, helps ensure every panel of AdvanTech flooring installs quickly and easily.