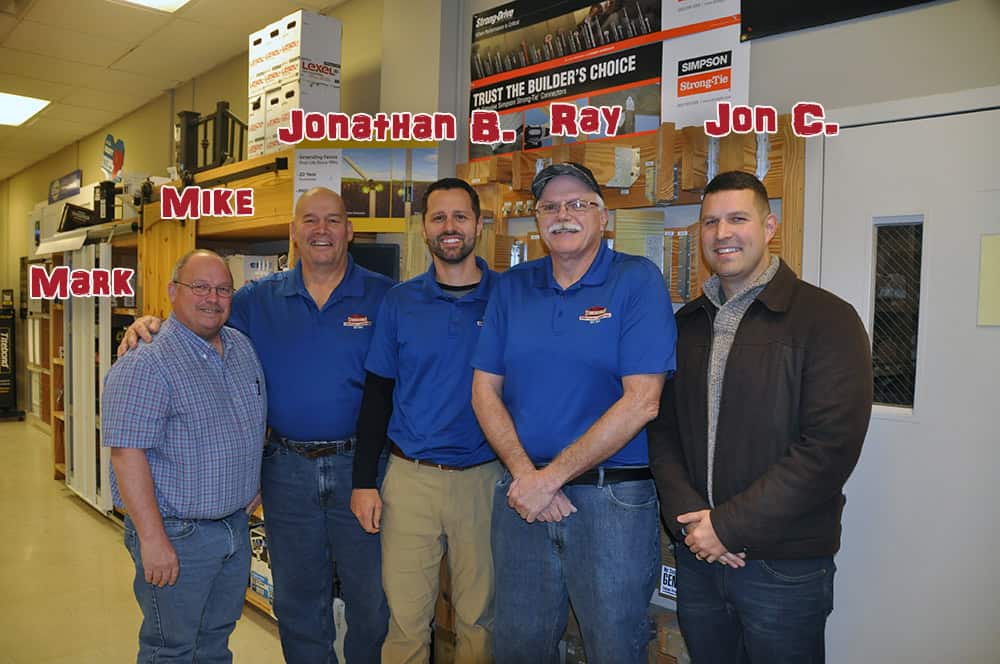 MORE Than Just a Lumber Yard?!!!
You can buy lumber at several places in Harrisonburg and Rockingham County, but you won't get more value for your time or money ANYWHERE than you will at Stoneburner! When you're looking for lumber, we do several things that separate us from everyone else around:
We take pride in selecting some of the finest lumber we can acquire from the mills.
We do not select mills that offer attractive prices on lumber which sacrifice on quality.
Our customers continually tell us that our lumber tends to be of higher quality than others in our business.
We typically hear it has less barked edges, less bowed, fewer knots, and tends to be straighter.
That said, lumber is a natural product and it is hard to find the perfect material, but we continue to work with our suppliers to provide you with the best available!
But that's nowhere close to all we can do for you! We also offer a full line of construction materials, including windows, doors, garage doors & openers, flooring, siding, and roofing materials. With our company heritage dating back more than half a century, we've worked to build a team of industry professionals who have nearly 170 years of combined construction experience that allows them to provide you with a level of service that can't be matched!
Jonathan Bucher, company vice-president, and 3rd generation owner focuses on post-frame take-offs, garage doors, windows, and awnings, and has been in the construction industry for 15 years. The special attention he gives to the contractors he works directly with has created a very loyal group of customers.
Ray Showman, one of the Shenandoah Valley's best with windows, doors, and trim joined us over three years ago and brought more than 30 years of experience in dealing with building materials with him! Not only is he great at those product lines, but Ray is also very versed in foundations and roofing materials. Ray has built a reputation with his customers for helping them find what they need, even if that ends up being somewhere else. Because he focuses on providing this level of service, he's almost always their first and only call!
When Mark Marriner joined the Stoneburner team in early 2019, he brought three and a half decades of experience with service to the farming and contracting community in the Shenandoah Valley, providing a wide knowledge of building materials and post-frame construction on agricultural and residential projects. What he enjoys most about this field is being able to help his customers find the best options for their needs. If you've ever done business with him, you know Mark's focus on providing that superior level of service to his customers is a great fit with Stoneburner's values!
Mike Budd joined the team with a focus on launching a commercial materials division so Stoneburner could begin providing the best-in-class materials and service we've been known for historically to the commercial construction industry! While he comes from a different industry, Mike brings nearly 40 years of relationships and leadership experience that will help us exceed our customers' expectations as we grow this segment of our business.
In early 2019, Jonathan Chase came onboard with a focus on providing service to contractors in some areas Stoneburner hasn't had as much presence in previously. Jon started his career in the construction industry working for a Class A Contractor and a nationwide material supplier with a focus on installation services. Just prior to joining us, he served as a District Sales Manager with NAPA Auto Parts, providing that customer base with product knowledge and building strong relationships in the process. With Stoneburner, Jon provides builders with that same direct support he was known for in each of his previous roles.
And if you're looking for someone to do more than just supply the materials for your job; our estimator will be more than happy to talk with you about how we can provide you with a turnkey solution!